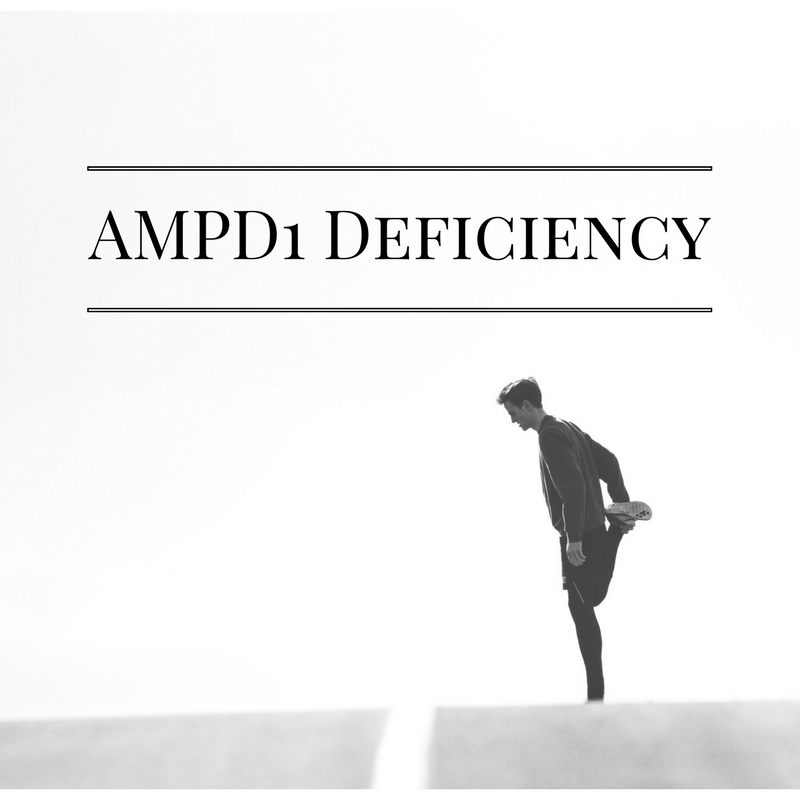 Adenosine Monophosphate deaminase is an enzyme coded for by the gene AMPD1 and acts in the skeletal muscles to convert AMP to IMP.  There is one common polymorphism, C34T, that causes a decrease in function of this enzyme.  It is heterozygous in 10% – 15% in Caucasians and Africans, while  ~ 1% are homozygous for the variant.  AMPD1 deficiency, also known as myoadenylate deaminase deficiency, has varying effects on exercise performance, heart attack response, and methotrexate response.
The Genetics Home Reference give an introduction to this gene and its function:
"The AMPD1 gene provides instructions for producing an enzyme called adenosine monophosphate (AMP) deaminase. This enzyme is found in the muscles used for movement (skeletal muscles), where it plays a role in producing energy. Specifically, during physical activity, this enzyme converts a molecule called adenosine monophosphate (AMP) to a molecule called inosine monophosphate (IMP) as part of a process called the purine nucleotide cycle. This cycle reuses molecules called purines, which are a group of building blocks of DNA (nucleotides), its chemical cousin RNA, and molecules such as AMP that serve as energy sources in the cell. As part of the purine nucleotide cycle, AMP deaminase converts AMP to IMP, and as the cycle continues, molecules are produced that the muscle cells can use for energy. Skeletal muscle cells need energy to function and move the body. "
A recent study gives a more in-depth explanation:
"AMPD catalyzes the intracellular conversion of AMP into IMP (inosine monophosphate). Subjects heterozygous for this variant allele appear to have a 50% reduction in enzyme activity [33]. Interestingly, heterozygosity was recently associated with an improved cardiovascular prognosis in patients with coronary artery disease, probably because of an increased conversion of AMP into adenosine with subsequent increased adenosine concentrations and subsequent organ protection during ischemia."
AMPD1 Genetic Polymorphism:
rs17602729 is also known as C34T in studies.  Most studies refer to the minor allele (less common variant) as T, but in 23andMe data it will be A.
Check your 23andMe results for rs17602729:
AA: loss of function variation for AMP Deaminase (increased adenosine formation, muscle soreness in exercise, various other effects)
AG: reduced AMP Deaminase function
GG: normal type
Exercise studies:
Infection / Endotoxin studies:
Rheumatoid arthritis /methotrexate studies:
Heart Disease:
Diet interaction:
Diet and Supplements for AMPD1 deficiency:
More to read: