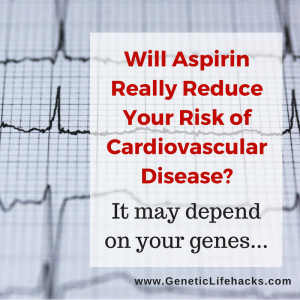 Everyone knows that aspirin protects against heart disease, right?
Well, it turns out that aspirin may only protect some people from heart disease, and for others, it can actually slightly increase the risk of heart disease.  It all seems to depend on a variant of the COMT gene.
Catechol-O-methyltransferase (COMT) is the gene that codes for an enzyme that breaks down dopamine, epinephrine, and norepinephrine, as well as other substances.  There are many studies on the common genetic polymorphisms of the COMT gene, and most of the studies focus on the neurological aspects of the enzyme.
A study published in the Journal of the American Heart Association looked at the effect of a common COMT polymorphism on cardiovascular disease.  The study also looked at the combined effect of the variant along with either aspirin or vitamin E and cardiovascular disease. Continue reading "Should I Take Aspirin to Prevent Heart Disease?"