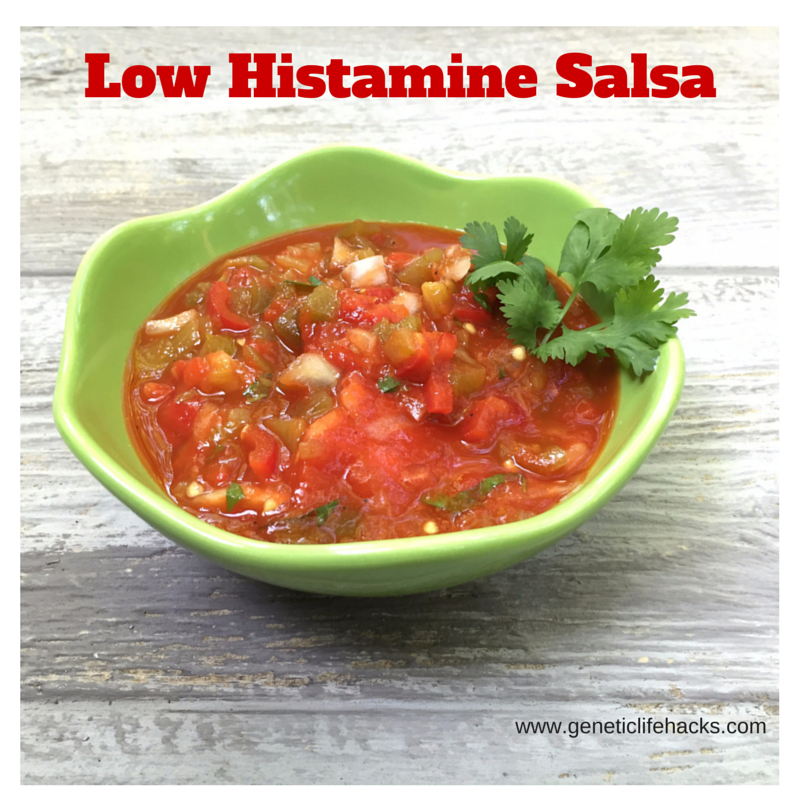 On a low histamine diet and craving salsa and tortilla chips? Here is a quick recipe for a low histamine salsa using roasted red peppers instead of tomatoes.
Low Histamine Salsa:
Roasted red peppers (2)
1/2 onion, diced
1/2 fresh red or yellow pepper, diced
small can of diced green chiles (optional)
cumin (to taste)
salt (to taste)
fresh cilantro, chopped
Blend the roasted red peppers in the blender or food processor until somewhat smooth.  Add diced onion, red pepper, green chiles.  Mix in cumin and salt to taste.  Stir in chopped cilantro.
Fresh corn tortilla chips:
I served this low histamine salsa with corn tortilla chips air fried in my air fryer.  They are super easy to make – just spritz a corn tortilla with a little oil, cut into triangles, and pop them in the air fryer at 350. It takes about 4-5 minutes, but keep an eye on them.
---
Related Genes and Topics:
Histamine Intolerance Genes:
When your body has too much histamine, it can cause symptoms known as histamine intolerance. This can be due to excess production of histamine by your body or not being able to break down histamine from foods very well.
Tyramine intolerance
Foods high in tyramine can cause a hypertensive crisis for people on MAOA inhibitors – and possibly for people who genetically have impaired tyramine metabolism. Learn more about the foods high in this biogenic amine and check to see if you carry the genetic variants that put you at risk.
Folate & MTHFR
The MTHFR gene codes for a key enzyme in the folate cycle. MTHFR variants can decrease the conversion to methyl folate.