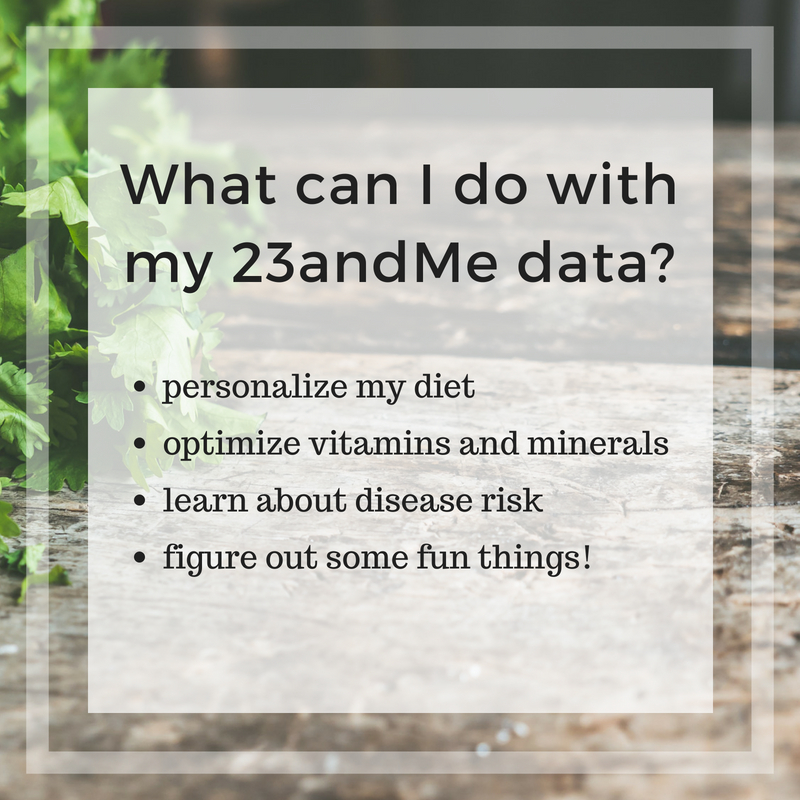 You've spit in the little tube, mailed it off to 23 and Me, and finally have your results available.
After playing around with all the fun ancestry information on 23andMe.com, you should download your data and dig into finding out more about yourself.
What now? You can use your genetic data to get a better picture of how your body works and what diet choices may work better for you.
Common sense: 23andMe doesn't guarantee the accuracy of the raw data file and they let you download it for informational purposes. If anything rare or really bad pops up in your genetic data, I suggest using common sense and getting a second option.
Start with this website!
There is a ton of free information here, and it is based on research studies. Click the links in each article to access your 23andMe results.
Fun articles

 to start with:
A couple of important things to check:
If you have no idea what kinds of things are related to genes, check out the Site Map for an overview of the 100+ articles on this website.
Other websites to check out:
Keeping your genetic data private!
Be sure that you read the privacy policies and know what you are agreeing to before you upload your raw data file all over the internet. I've ended up removing several suggestions from this page because of their privacy policies and subsequent use of people's data to sell them products!
1. Promethease and codegen.eu:  Both offer reports that you can run on your 23andMe results which compare your SNPs with those listed in www.snpedia.com. These both can point to issues for which you may be genetically susceptible.
It is a good starting point to let you know what to look into, but it can also be overwhelming to know which information is truly important. I highly suggest that you spend the time to read through the additional information and the research studies that the reports link to; it is often overwhelming to see cancer or a bad disease pop up, but often when you look at the study you will find that the increase in risk is very small.
The Promethease report is $10 and gives a nicely formatted report that is easy to navigate.  The Codegen.eu report is free and has similar information to Promethease, based on snpedia.com along with links to research studies.
2. If you have a specific topic that you are interested in (and it isn't covered here on this site :-), SNPedia.com is a really good starting point.  It is a user-edited resource with links to research papers on genetic variants.  Pubmed.gov is the NIH searchable database for medical research studies. The terminology in research papers can be daunting at first, but you have the whole internet at your fingertips, so there is no excuse not to just look up the words that you don't know.
There are also lots of blogs and forums giving suggestions and protocols for certain polymorphisms. They may be a good starting point for your research. A word of caution though is that you should always check the sources and see where the author is getting their information.  Don't just blindly follow what someone says on "the Facebook" :-)
3. Methylation Pathway Analysis:  This free report gives a lot of background information on methylation cycle issues.  It is based on the work of Dr. Amy Yasko, who is an expert in molecular biology and has written several books on autism.  Dr. Yasko's website has a wealth of information on genetics and methylation.
If you are concerned about the privacy of uploading your data file to the website, you can also kind of DIY it by looking at her sample report, which has a lot of good background information in it.
4.  Paid websites (again – actually read their privacy policy and understand what you are agreeing to):
Found My Fitness  $10  Dr. Rhonda Patrick offers several reports. Moreover, her podcasts are generally really informative!
StrateGene – $45.  Gives you a report of what your polymorphisms are for methylation pathways.  They recommend working with a physician to interpret the report.
LiveWello – $19.99  When you upload your 23andMe data, you can see the major and minor alleles for a bunch of SNPs as well as links to snpedia.com and people's questions and comments about that gene. There are links to practitioners who you can hire.
Sorry that this list is getting shorter! I removed a couple of websites that I am no longer comfortable with either due to their privacy issues or due to a lack of confidence in their content.
If you have suggestions for other websites, please add them in the comments below.
updated 5/2018