The MyHeritage raw data contains similar information to the 23andMe and AncestryDNA data, but it is in a slightly different format – a .csv or comma-separated values file type.
A .csv file is a type of text file with values that are separated by commas. To use this data file with Genetic Lifehacks membership, you will need to convert it to a text file that is tab delimited.
Directions for converting .csv to .txt:
Download your MyHeritage raw data and unzip (uncompress) the .zip file. It will give you a file named MyHeritage_raw_dna_data.csv.
Open the MyHeritage_raw_dna_data.csv in Excel. Alternatively, you can open Excel and then import the .csv file.
(Google Sheets won't work as an alternative to Excel for this. There is a maximum row limit of 40,000 rows in Google Sheets. The MyHeritage data file contains over 600,000 rows.)
In Excel, save the file as a tab delimited text (.txt) file. On a Mac, the option looks like this: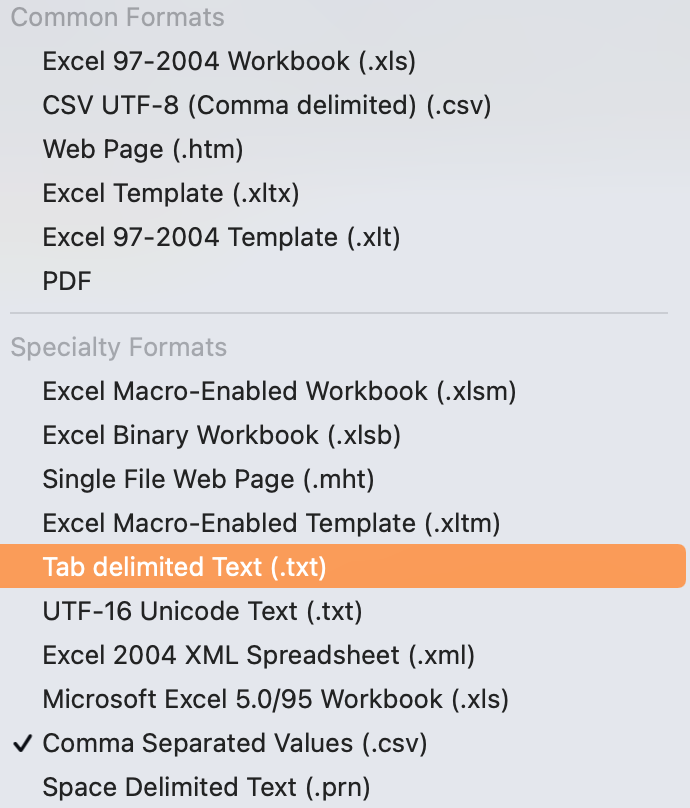 That's it! Your data should now work with Genetic Lifehacks membership features.
Not working? If you are a Genetic Lifehacks member and struggling with converting your file, please don't hesitate to reach out for help. If you don't have Excel, I can easily convert the file for you.