23 and Me offers an easy way to delete your account and remove your data from their website.
First, I highly suggest that you download your 23andMe raw data file. If you delete your 23andMe account, you will not (of course) be able to use your genetic data unless you have downloaded the file.
To delete your account, click on your name in the upper right corner, and then choose Settings.
Scroll down to the bottom of the Settings page. Here you will see:

Click on the word "View".
This will take you to a page with all your data options.  Scroll to the bottom.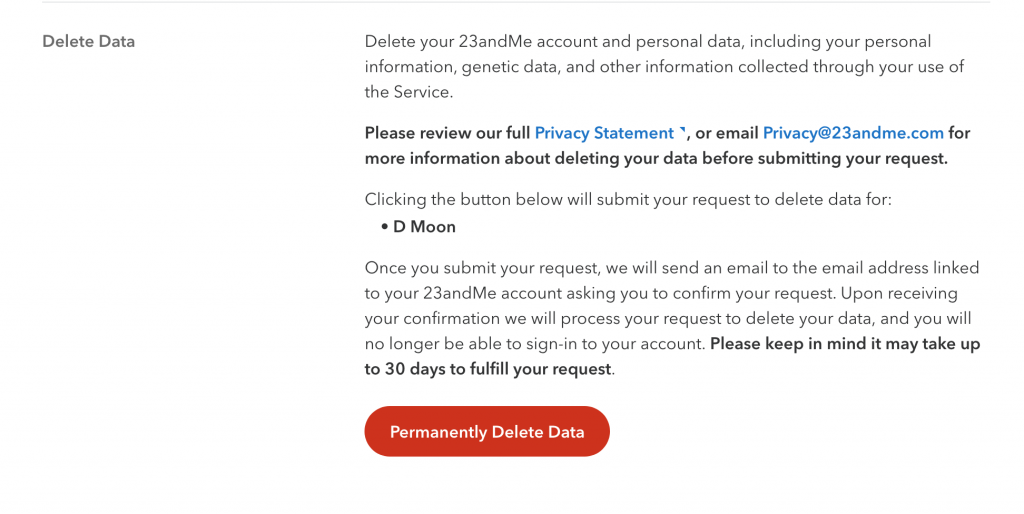 Click on the big red "Permanently Delete Data" button.  This will trigger an email confirmation to whatever email address you used when you registered with 23andMe.  The email confirmation comes fairly quickly, so if you don't see it within an hour, be sure to check your spam.
Once you confirm that you want your data deleted, it can take up to a month before all of your data – genetic, personal info, tracking data – is deleted from their servers.
---
About the Author:
Debbie Moon is the founder of Genetic Lifehacks. Fascinated by the connections between genes, diet, and health, her goal is to help you understand how to apply genetics to your diet and lifestyle decisions. Debbie has a BS in engineering and also an MSc in biological sciences from Clemson University. Debbie combines an engineering mindset with a biological systems approach to help you understand how genetic differences impact your optimal health.
---