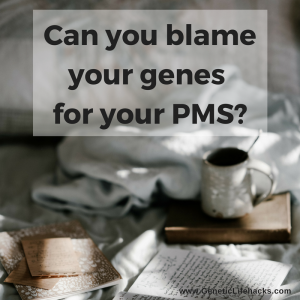 A lot of women know the moodiness and brain fog that comes with premenstrual syndrome (PMS).  It can range from simply feeling irritable and icky to being something that really interferes with our lives.
What role do genes play in PMS?  It has been shown in the past few years that there is a genetic component, especially for a severe form of PMS called premenstrual dysphoric disorder (PMDD). PMS is thought to affect about 30-40% of women, while PMDD is rarer and affects only 3-8%.[ref] One 2011 study of twins estimated that heritability of PMS was around 95%.[ref]
Neurotransmitters cause some of the symptoms of PMS and PMDD. Serotonin is an important neurotransmitter involved in mood stability.
Estrogen is a serotonin agonist, and fluctuations in estrogen levels also affect serotonin levels. GABA, another neurotransmitter, is also involved in PMS symptoms for some.
Genes involved in PMS and PMDD
The rest of this article is available to Patrons via Patreon.  Thank you to all of you who support Genetic Lifehacks on Patreon!