Color TV has made us fat! Nope, not the commercials advertising fast food at night, nor the fact that we are lying on our couches watching those commercials. The flickering blue light pouring out of almost every window in the neighborhood each evening is fundamentally changing our biology.
My argument goes as follows: obesity started to rise right around 1980 in the US, which coincides with color TV's being in the majority of homes in the US. Every good argument needs data to back it up, so here is a nice chart from the National Institute of Health webpage showing the increase in obesity and extreme obesity starting just before 1980 in the US: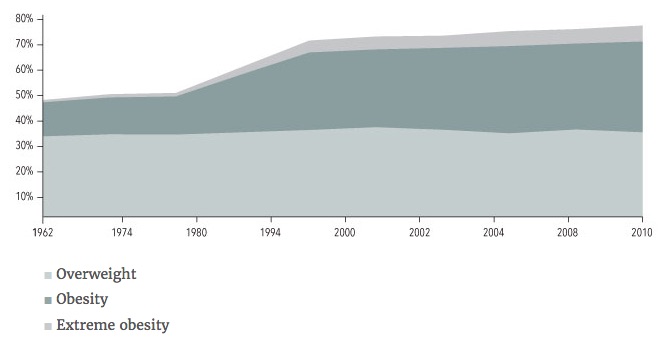 Yes, I am being a bit sarcastic here with my broad, sweeping statements and reckless use of a chart, but stick with me as I explain how melatonin is made (including why MTHFR may affect melatonin production). I'll also explain how artificial light at night decreases the production of melatonin — and how all of this ties into negative health consequences, including weight gain.
Blue light at night negatively affects health
When you start looking at the increasingly strong evidence that blue light at night is messing us up, it starts to make sense that color television sets pouring blue light into our living rooms each night would affect the population as a whole. Currently, people's exposure to more blue light at night than ever before comes from our phones, tablets, and CFL or LED lights.
There is actually quite a lot of evidence that light in the evening and at night, especially in the blue wavelengths, causes a disruption to our body's natural circadian cycles. This disruption can cause weight gain as well as more serious metabolic issues. Here are just a few studies from the past couple of years:
There has always been light at night from moonlight, candles, fire, or even incandescent light bulbs. But those light sources all have very little of the short wavelengths of blue light.
The blue wavelengths stop melatonin production for up to 2 hours, so exposure in the evening/night from TVs, tablets, and smartphones delays the onset of melatonin production.[ref] It takes a surprisingly short amount of exposure (15 seconds!) to bright light to delay the onset of melatonin production.[ref]
So what does melatonin do in the body?
Do you wonder why it is such a big deal for melatonin production to be delayed or decreased by light at night? It turns out that melatonin plays a role in several systems in the body.
Melatonin was first isolated from pineal glands in the late 1950s. Eventually, studies associated it with sleep and then followed synthetic melatonin's first patent for its production as a sleep aid in 1995. Melatonin production is part of our body's natural circadian rhythm: the level rises at bedtime, peaks around 3 am for most people, and then drops off sharply around 6 am.
Although most often thought of as the sleep hormone, melatonin has many more roles than "just" a good night's sleep.
It acts as an antioxidant: "It achieves this action via a variety of means: direct detoxification of reactive oxygen and reactive nitrogen species and indirectly by stimulating 

antioxidant

 enzymes while suppressing the activity of pro-oxidant enzymes".[ref]
Melatonin also chelates transition metals such as iron.[ref]
Melatonin plays a role in the circadian rhythms of insulin secretion. The pancreas has melatonin receptors to help insulin get down-regulated by melatonin at night.[ref]
A recent review sums it up "The reduction in melatonin production, as during aging, shift-work or illuminated environments during the night, induces insulin resistance, glucose intolerance, sleep disturbance, and metabolic circadian disorganization characterizing a state of chronodisruption leading to obesity."[ref]
How is melatonin made?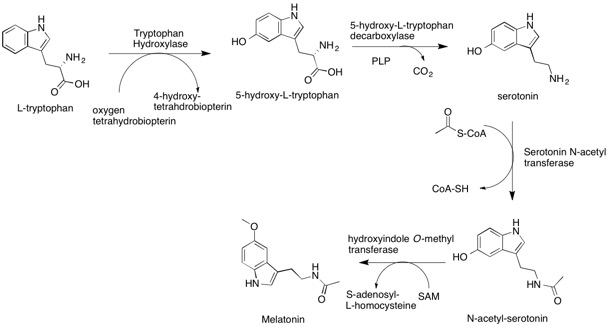 The synthesis of melatonin occurs in the body in a four-step process. It starts with the amino acid l-tryptophan, which we can get from a variety of foods. (This is where we get the idea that Thanksgiving turkey (high in tryptophan) makes you sleepy.) Tryptophan goes through a couple of steps to become serotonin. The result of this process lets serotonin become available for use as a neurotransmitter, or it methylates to become melatonin.
So there are quite a few processes in the body that can play a role in your melatonin levels, including eating adequate protein (tryptophan), producing the right amount of enzymes needed in the synthesis, and having adequate methyl groups available for the final step. When all of the processes work optimally, the lack of light at night initiates the final role in melatonin production.
---
Melatonin Genotype Report:
Member Content:
An active subscription is required to access this content.
Join Here for full access to this article, genotype reports, and much more!
---
Already a member? Log in below.
---
Lifehacks:
Changing your environment:
1) Blocking blue light at night through the use of 100% blue-blocking glasses for several hours before bedtime increased melatonin production by over 50% in just two weeks in a recent study.[ref]
2) Put up some black-out curtains in your bedroom to eliminate light coming in from street lights, cars, etc. I was surprised at the difference it made for me. An easy way to experiment and see the difference for yourself would be to simply hang dark sheets or black trash bags over your windows for a couple of nights.
3) F.lux software will turn down the blue light at night on your laptop and tablet.
4) Bright light in the morning may help balance the effects of blue light at night.[ref] Get outside first thing in the morning and expose yourself to real sunlight.
Supplements:
Member Content:
An active subscription is required to access this content.
Join Here for full access to this article, genotype reports, and much more!
---
Already a member? Log in below.
---
Related Articles and Topics:
Top 10 Genes to Check in Your Genetic Raw Data
These are 10 genes with important variants that can have a big impact on health. So check them out, cross them off your list if you don't have them — and read the articles to learn more if you do carry the variant.
Circadian Rhythms: Genes at the Core of Our Internal Clocks
Circadian rhythms are the natural biological rhythms that shape our biology. Most people know about the master clock in our brain that keeps us on a wake-sleep cycle over 24 hours. This is driven by our master "clock' genes.
Melatonin: Key to Health and Longevity
t seems like everything that I've written about lately has a common thread: melatonin. When I started weaving together all those melatonin threads, a big picture was revealed. You could say it is a… tapestry of health. Melatonin may actually be the key to health and longevity.
Learn more: