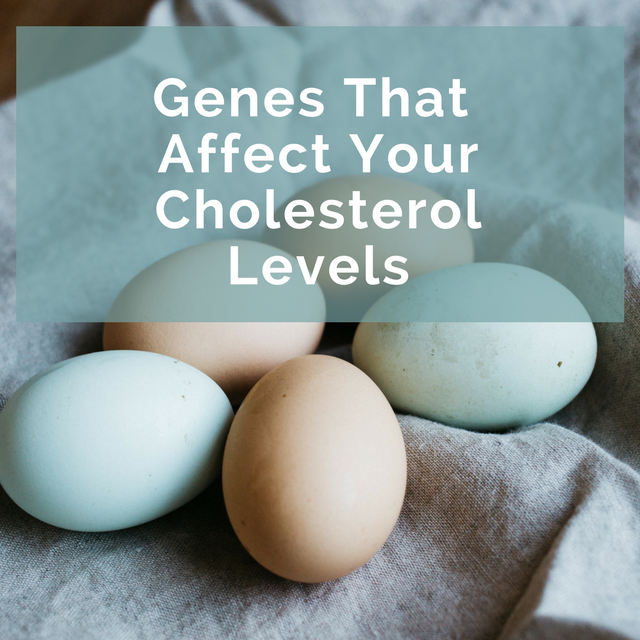 Heart disease is the leading cause of death in the US and around the world, and hand-in-hand with heart disease goes the often demonized cholesterol.  Standard medical advice on ideal cholesterol levels and cardiovascular disease are often confusing, ever-changing, and downright contradictory.  So here is a look at some of the ways our genes are involved in raising or lowering our cholesterol levels.
The "cholesterol problem"…
Statins, a type of cholesterol-lowering medicine,  are one of the most prescribed medications in the US and UK. It was estimated in 2014 that about 28% of Americans over age 40 are taking a statin. With prices for the prescription drugs ranging from $10 (generic) to over $700 for a month's supply, the economic impact of taking statins can be extensive, especially when calculated over the typically many years of use.  [goodRx]
The Number Needed to Treat website has an extensive review of studies on statins, including the increased risk of diabetes and muscle pain. It is an interesting, well-crafted assessment of the risks and benefits which concludes that the risks from statins outweigh the benefits for most people.
So what is the role of cholesterol in the body?  And why are we so obsessed with our cholesterol numbers?
Cholesterol is a type of lipid that is created in by all animals and is an essential part of the cell wall structure.  It is also the precursor for bile acids, vitamin D, and steroid hormones (testosterone, estrogen, progesterone, cortisol, aldosterone, etc).  So while it may seem vilified at times by doctors and news articles, cholesterol is vital and we can't live without it.
Like everything in the body, it is a matter of having neither way too much nor too little. Here is an interesting chart plotting causes of death worldwide along with cholesterol levels.  The chart shows a sharp increase in mortality with lower cholesterol levels. One reason for the high mortality rates with low cholesterol is that cholesterol plays a role in protecting against infectious diseases. [study]  Don't like charts? There is a large 10-year study out of Norway that found the lowest mortality between ~190 to 270 mg/dl (5 and 7 mmol/ l)!
So where does cholesterol come from?  In addition to the cholesterol that your body makes, cholesterol from food (animal products) is absorbed in the intestines.  Ingesting foods with cholesterol causes a  temporary increase in serum cholesterol levels, with levels drop to baseline in about seven hours.[study]  Eating cholesterol causes the body to produce less of it, and lowering cholesterol intake will trigger the body to make more of it.  The majority of cholesterol in the body is synthesized in the liver, intestines, adrenals, and reproductive organs.  It is a multi-step, complex process.  Cholesterol synthesis is regulated through several processes, with one of the main ways being the SREBP protein, coded for by the SREBF1 and 2 genes.  Other genes involved include cholesterol transport and receptor genes.
Genetics of cholesterol levels:
CETP Gene:
One of the well-studied genes related to cholesterol is CETP (cholesteryl ester transfer protein), which codes for a protein involved in exchanging triglycerides between LDL and HDL cholesterol.
The rs708272 polymorphism is also known as Taq1B in studies.  Those with the T (referred to as A or B2 in studies) allele generally have higher HDL cholesterol.  In research studies, the polymorphism is usually referred to as Taq1B, and B2B2  is the same as rs708272 – TT.
Check your 23andMe results for rs708272:
TT: reduced CETP function, higher HDL cholesterol levels
GT: reduced CETP function, slightly higher HDL cholesterol levels
GG: normal type
A 2009 study investigated the effect of the Taq1B polymorphism (rs708272 – T) for both HDL levels and the risk of heart attack.  That study (18,000+ women) showed an average increase in HDL level per T-allele and reduced risk of heart attack.  A 2016 meta-study confirmed this increased HDL and reduced heart attack risk in Caucasians and Asians.
Another polymorphism of the CETP gene, rs5882 or I405V, is linked to HDL cholesterol levels and lower risk of dementia.  The 2010 study on dementia, published in the Journal of the American Medical Association, found that those with the G allele had a slower rate of memory decline and that homozygotes had a 70% reduction in risk of dementia!
Check your 23andMe results for rs5882:
GG: HDL cholesterol levels, significantly lower risk of dementia
AG: HDL cholesterol levels, lower risk of dementia
AA: normal type
One more SNP near the CETP gene also is associated with higher HDL levels.
PCSK9 Gene:
The PCSK9 gene is being studied for the effects of polymorphisms on LDL levels.  There is a fairly in-depth video with nice visuals here.  One well-studied polymorphism that decreases LDL levels is rs11591147.  A 2012 meta-study showed that the T allele significantly lowers the risk of cardiovascular disease (28% risk reduction) and corresponds to a lower LDL cholesterol level (avg 16mg/dl).   This is a loss of function mutation for the gene.
Check your 23andMe results for rs11591147:
TT: lower LDL cholesterol, decreased risk of heart disease
GT: lower LDL cholesterol, decreased risk of heart disease
GG: normal type
Another PCSK9 SNP is rs28942111, which causes a gain of function in the gene, raising LDL cholesterol levels.  The risk allele here is A, which is considered pathogenic for hypercholesterolemia. [ClinVar]

APOB – Apolipoprotein B gene:
Apolipoprotein B is one of the main carriers of LDL cholesterol throughout the body and into the cells.  Polymorphisms in the APOB gene can lead to high LDL levels and increased risk of heart disease.  [study] [study]
Check your 23andMe results for rs693:
AA: higher LDL, increased risk of heart disease
AG: higher LDL, increased risk of heart disease
GG: normal type
There are also several APOB mutations that are pathogenic for familial hypercholesterolemia, a genetic form of very high cholesterol.  Familial hypercholesterolemia can significantly raise the risk of heart disease. These include:
rs12713559 -The A allele can possibly lead to familial hypercholesterolemia
LDLR Gene:
Some mutations in the LDL receptor gene are pathogenic for familial hypercholesterolemia.  23andMe data only covers a few of the over 400 mutations known.
rs2228671 – G allele is pathogenic for familial hypercholesterolemia
rs28942079 – A is pathogenic for familial hypercholesterolemia
Diet and Supplements:
If you have high cholesterol and are trying to avoid going on a statin, here are some diet and supplement ideas to try:
A whole foods diet and moderate exercise are beneficial for keeping cholesterol levels in check.  Yep – standard advice to cut out pre-packaged / fried food and go out and take a walk.  While the old advice to give up eggs is no longer the case, cutting out the processed food should decrease inflammation and lower cholesterol levels a bit.  Interestingly, a recent study found no correlation between fruit and vegetable intake and cholesterol level.
Niacin (vitamin B3) has been shown to raise HDL cholesterol levels and lower LDL and VLDL levels.  There is some controversy, though, as to whether this reduces the risk of heart disease. [study] [study]
Omega 3 / fish oil supplements are often recommended for lowering cholesterol.  The jury seems to still be out on the topic, but adding fish to your diet may be beneficial.  [study]
Red cabbage microgreens were found to reduce LDL levels.[study] Microgreens are very simple to grow at home in a sunny window or under a LED grow light.  I've found that there is no need to buy a fancy microgreen kit; I just use a leftover sushi container and a little organic potting soil.
Cholesterol is important to thyroid hormone levels and vice-versa.  A recent study recommends that women of childbearing age should have TSH levels less than 2.5. [study] [study]
A recent study found that pomegranate juice raised triglyceride and LDL levels, but lowered blood pressure.
More to read:
Updated 5/2017