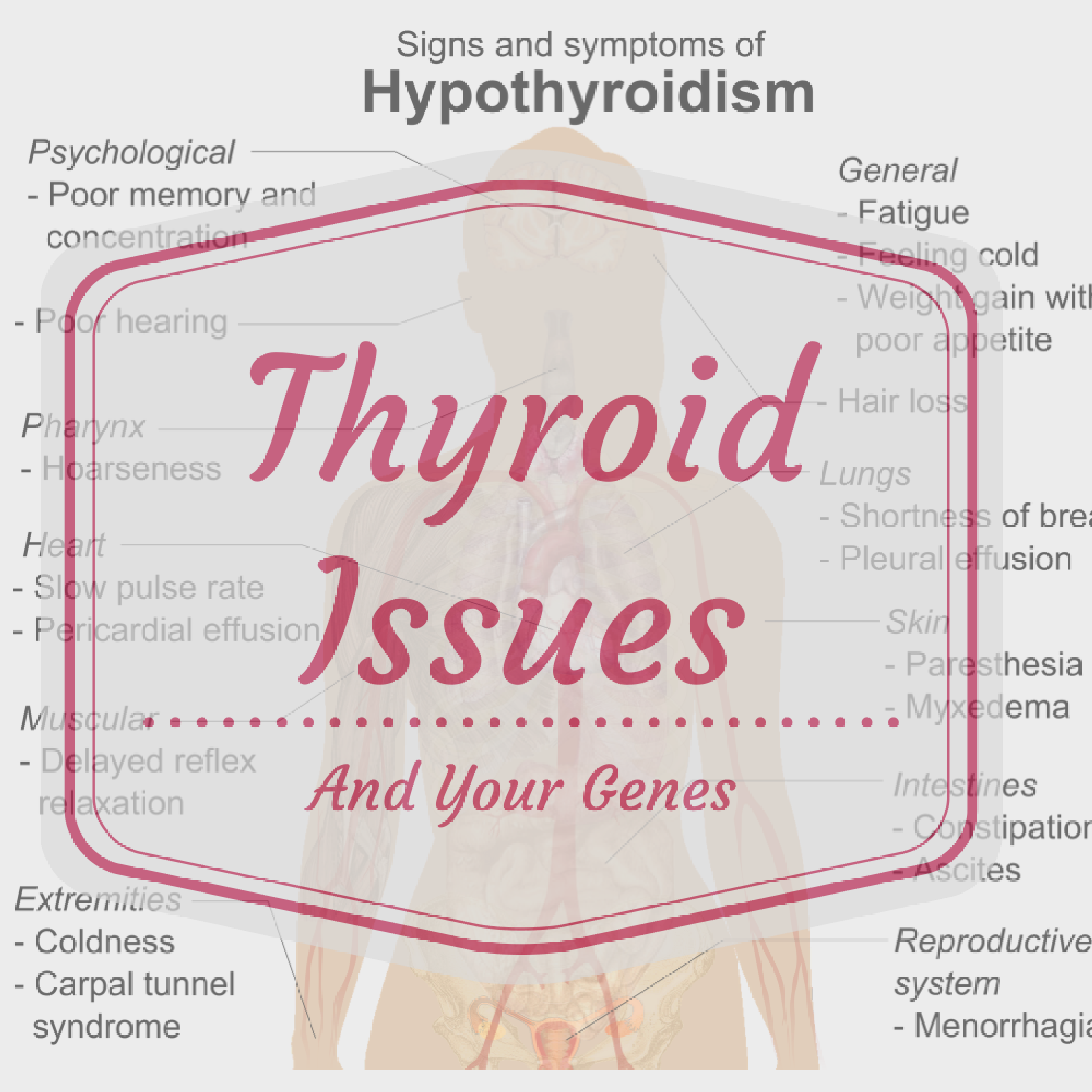 Your genes play a big role in how your thyroid works and how your body produces and converts the different forms of thyroid hormone.
Using your raw genetic data from 23andMe or another source, you can get an idea of areas that may be genetic weaknesses for you, possibly pointing to new approaches to managing your thyroid issues.
Why is this such a hot topic right now? More people than ever are having problems with low thyroid levels. In 2016, the #1 prescribed drug in the US was Synthroid, a synthetic thyroid hormone with 123 million people on the drug.[ref] Thyroid hormone levels play a vital role in how you feel and in your overall good health.
A quick overview (for those unfamiliar with thyroid):  thyroid hormones affect every cell in the body and control many functions such as metabolism, heart rate, body temperature, muscle contractions, and digestive functions.
The thyroid gland is located in the neck and uses iodine to create the thyroid hormones thyroxine(T4) and triiodothyronine(T3). The rate at which the thyroid gland produces and releases thyroid hormone is controlled by the hypothalamus and the pituitary gland through thyrotropin-releasing hormone (TRH) and thyroid-stimulating hormone (TSH).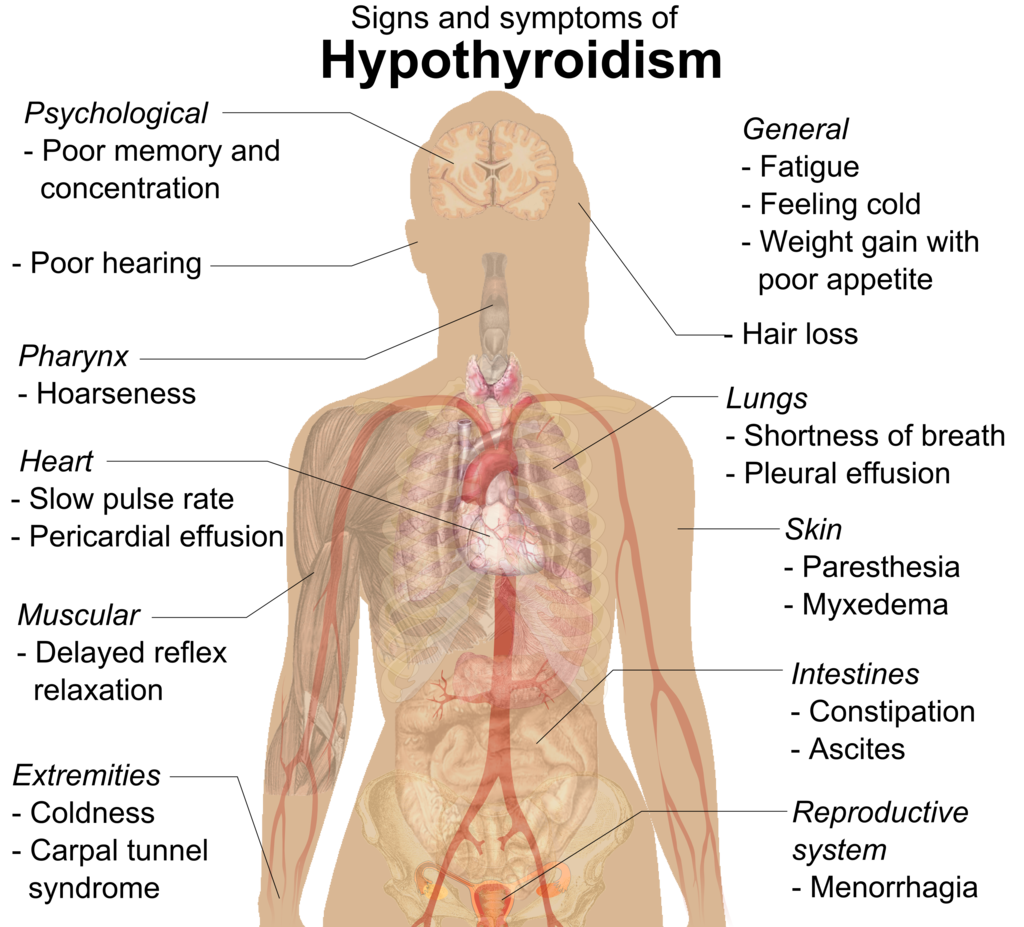 Hypothyroidism is caused by too little thyroid hormone; hyperthyroidism is caused by too much thyroid hormone. T3 is the active form of thyroid.  The thyroid gland produces and releases much more T4 than T3 (around 90% more), but enzymes can convert T4 to T3 in your tissues and organs. Too much of the active T3 in cells will cause enzymes to inactivate it to reverse T3.
So you can see that thyroid hormone levels are an intricate balance between production of T4, conversion to T3, inactivation to rT3, TSH levels, and the feedback loops controlling TRH and TSH. So in addition to diet and environmental toxins, genetics can play a role at many points along the way.
A good source of background information on all things thyroid is the website (and book) Stop the Thyroid Madness.  If you are unfamiliar with the ins-and-outs of thyroid hormones, I recommend that you start there first.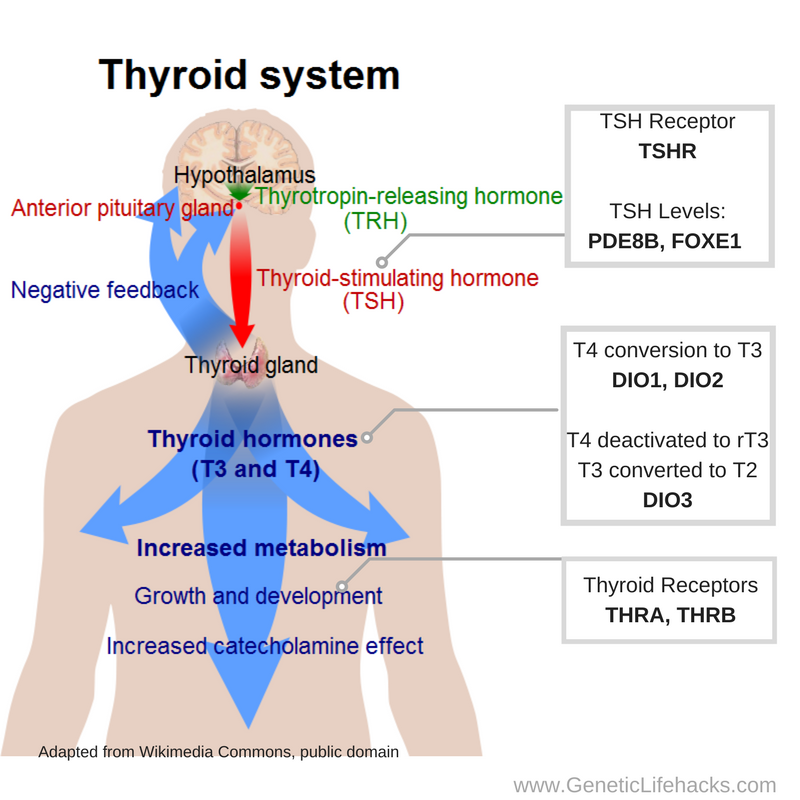 ---
Genetics  of thyroid hormone levels:
A person can be naturally slightly higher or lower than the average for TSH levels based on their genes.   An interesting study published in the journal of the European Society of Endocrinology looked at the heritability of thyroid hormone levels in men who had no thyroid auto-immune disease or dysfunction and found several SNPs that were responsible for approximately 50 – 90% of thyroid hormone variability.
TSHR – Thyroid stimulating hormone receptor (TSHR) gene codes for a receptor protein that controls thyroid cell metabolism. [ref]
TSH (thyroid stimulating hormone) levels are also tied to genetic variations. TSH levels are often the first thing that a doctor will check in regards to thyroid function, although some argue that TSH is not very useful in diagnosing hypothyroidism.
The PDE8B gene polymorphism is associated with TSH levels, specifically in those of European descent.[ref]  There are quite a few studies on this gene; a search in PubMed will give you more information.
The FOXE1 gene (thyroid specific forkhead transcription factor) has also been identified to increase the risk of primary hypothyroidism. [ref]
AutoImmune Thyroid Gene Variants – Grave's and Hashimoto's
A 2012 study published in the Endocrine Journal showed that there are several SNPs in the TSHR gene that influence the risk of the autoimmune thyroid diseases (AITD), which includes Graves' disease and Hashimoto's thyroiditis.  The study states that "genetic factors confer 80% contribution to the etiology of AITD".[ref]  Note that this does not mean that 80% of people with the SNPs have Graves' or Hashimoto's.  The prevalence of Hashimoto's in Caucasian women is between 1 and 2% and is even less in men.[ref]
DIO1, DIO2 – Deiodinase genes for conversion of storage (T4) to active (T3)
The deiodinase 1 (DIO1) gene encodes a protein that converts T4 to T3 and is involved in the degradation of both T3 and T4.  Iodine and selenium are involved in these reactions.  [ref]  DIO2 is also involved in the conversion of T4 to T3.
So why would these deiodinase polymorphisms be important?  The most common prescription for hypothyroidism is Synthroid, which is T4 only.  One reason for not doing well with Synthroid could be that the T4 is not being converted properly to T3 by the deiodinase enzymes.
Thyroid Hormone Receptors  (THRB, THRA)
---
Lifehacks
Recent studies on thyroid levels and chemical toxins:
With so many people having problems with thyroid hormone levels, the question becomes:  Why now? What is causing this explosion? The foods that we are eating and the fact that we no longer eat the thyroid glands of animals probably plays a role in the hypothyroid epidemic. Additionally, chemicals that are found in nearly everyone's bloodstream, such as PFOA's, BPA and phthalates, have been shown in several recent studies to be related to lower thyroid levels.  Study results include:
More to read
I encourage everyone who has thyroid problems to read and research more on this issue; you are your own best advocate. There is a lot more to learn about the topic:
Updated 4/2017