Heart disease is the leading cause of death in the US and around the world, and high LDL-cholesterol levels have been linked in many studies to increased heart disease. Standard medical advice on ideal cholesterol levels and cardiovascular disease is often confusing, ever-changing, and sometimes downright contradictory.
This article digs into the ways your genes can be involved in either high or low cholesterol levels. It includes background from research studies, genetic variants to check in your genetic raw data, and ways that your diet and lifestyle interact with your genes and cholesterol. Members will see their genotype report below, plus additional solutions in the Lifehacks section. Join today.  
Cholesterol: Necessary in the right amounts
When you read about cholesterol and heart disease, it is easy to believe that cholesterol is something terrible that you don't want in your body. But that is far from the whole picture! Cholesterol is essential for your health and wellbeing.
Cholesterol is a type of lipid (fat) created only by animals. It is an essential part of every cell and important for digesting foods and creating hormones.
A membrane composed mainly of phospholipids surrounds every cell in your body. Cholesterol molecules make up part of that cell membrane, stabilizing the membrane to help maintain its integrity. Cholesterol keeps the membrane firm enough to keep some very small water-soluble molecules out, yet not too rigid.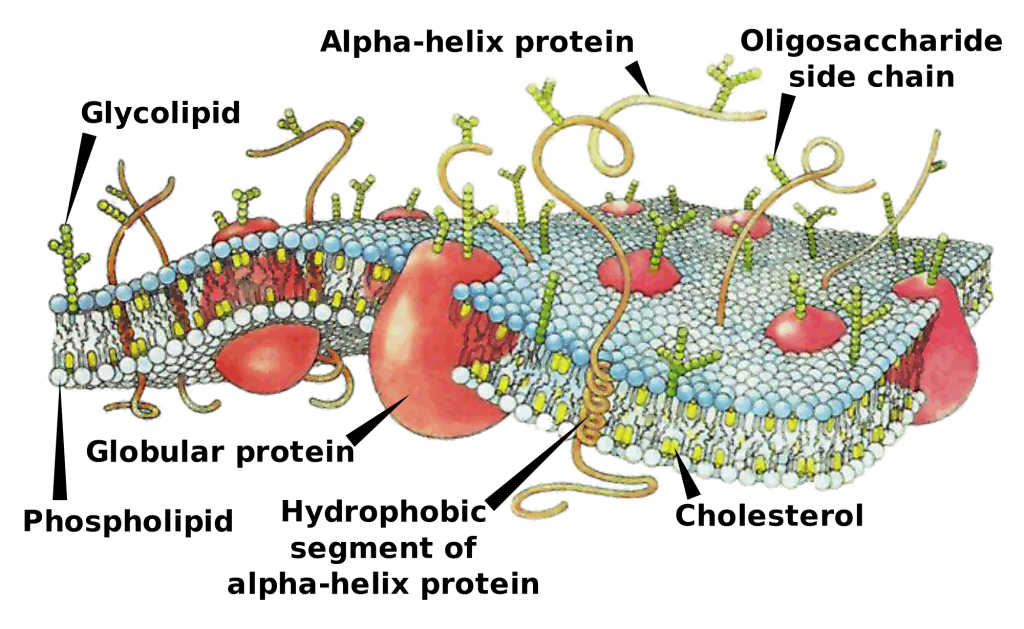 In addition to being part of the structure of cells, cholesterol is also the precursor for bile acids, vitamin D, and steroid hormones.
Bile acids are essential for digesting fats in the diet
Vitamin D plays a significant role in calcium metabolism and bone health.
The steroid hormones include testosterone, estrogen, progesterone, cortisol, and aldosterone.
What is the right level of cholesterol?
Like most things in the body, optimal health is a matter of having neither too much nor too little cholesterol. The right amount is personal, and it depends on our genes, diet, age, and lifestyle.
Here is an interesting chart plotting causes of death worldwide along with cholesterol levels. The chart shows a sharp increase in mortality with low cholesterol levels and with really high cholesterol levels. One reason for the high mortality rates with low cholesterol is that cholesterol helps protect against infectious diseases.[ref]
Don't like the charts? A large 10-year study out of Norway found the lowest mortality rates occurred in people with cholesterol levels between ~190 to 270 mg/dl (5 and 7 mmol/l).[ref]
While a wide range of cholesterol seems to be linked with lower mortality in epidemiological studies, the range published by the CDC is quite a bit smaller.
The CDC range for healthy cholesterol is:[ref]
Total cholesterol: Under 200 mg/dL is normal
LDL cholesterol: Under 100 mg/dL is normal
HDL cholesterol: Best to have more than 40 mg/dL
Triglycerides: Normal is below 150 mg/dL
These ranges vary in other countries, and the 'normal' level changes periodically. For example, according to a JAMA article, normal cholesterol ranged from 240 mg/dL in 1986 and up to 260 mg/dL in 1983.[ref]
Where does cholesterol come from?
There are two sources of cholesterol:
Cholesterol in foods
Cholesterol that your body makes
In addition to the cholesterol that your body makes, cholesterol from food (animal products) is absorbed in the intestines. Eating foods that contain cholesterol causes a  temporary increase in serum cholesterol levels, with levels dropping to baseline in about seven hours.[ref]
Generally, eating cholesterol causes the body to produce less of it, and decreasing your cholesterol intake will trigger the body to make more of it. At least, that is the way that it is supposed to work.
The majority of cholesterol in the body is synthesized in the liver, intestines, adrenals, and reproductive organs. It is a multi-step, complex process to make it. The regulation of cholesterol synthesis occurs through several processes, with one of the main regulators being the SREBP protein, coded for by the SREBF1 and 2 genes. Other genes involved in your cholesterol levels include cholesterol transport and receptor genes.
How is cholesterol stored?
Cholesterol can be stored in fat droplets packaged with triglycerides and lipoprotein. Chylomicrons are created from dietary fats and contain apolipoproteins, triglycerides, and cholesterol. The backbone of chylomicrons is ApoB. Chylomicrons are taken up by the lymphatic system and then transferred to blood circulation. Once in circulation, chylomicrons incorporate into adipose (fat) or muscle tissue.[ref]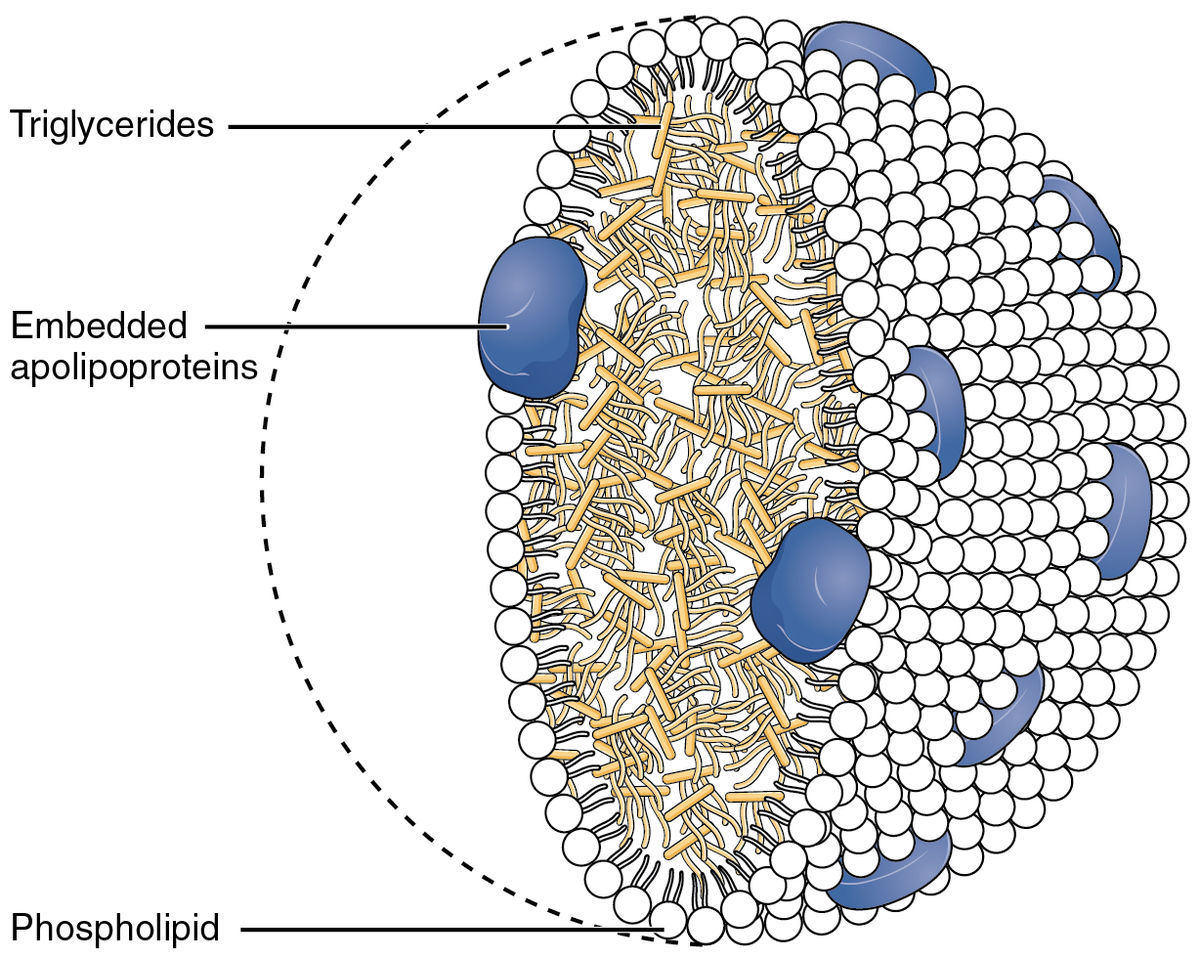 Additionally, cholesterol can be made in the liver and packaged into LDL particles of different densities and sizes, such as VLDL (very low-density lipoprotein) particles. These circulating LDL particles then can bind to cells with an LDL receptor to be utilized by the cell.
How is cholesterol used?
Cholesterol levels are tightly regulated by cells. LDL receptors control the uptake, and the cell then controls how many LDL-Rs are available via a couple of proteins, including PCSK9.
When excess cholesterol is available, excretion through the liver into the feces occurs. This process is called reverse cholesterol transport. The ABCA1 protein is responsible for moving cholesterol back out of the cells.
All of these highlighted genes play a role in the genetic component of LDL cholesterol levels.
Cholesterol and Heart Disease: Controversial?
According to the CDC, LDL, or 'bad' cholesterol, increases heart disease and stroke risk. They recommend eating "foods with plenty of fiber, such as oatmeal and beans, and healthy unsaturated fats, such as avocados, olive oil, and nuts."[ref]
Essentially, LDL is linked to heart attacks because cholesterol is a component of plaques that can build up in the arteries. When the cells lining the blood vessels (endothelial cells) become inflamed, LDL particles are included in the layers of the arteries. When the LDL cholesterol becomes oxidized by reactive oxygen species, it increases the inflammation in the vessel.[ref]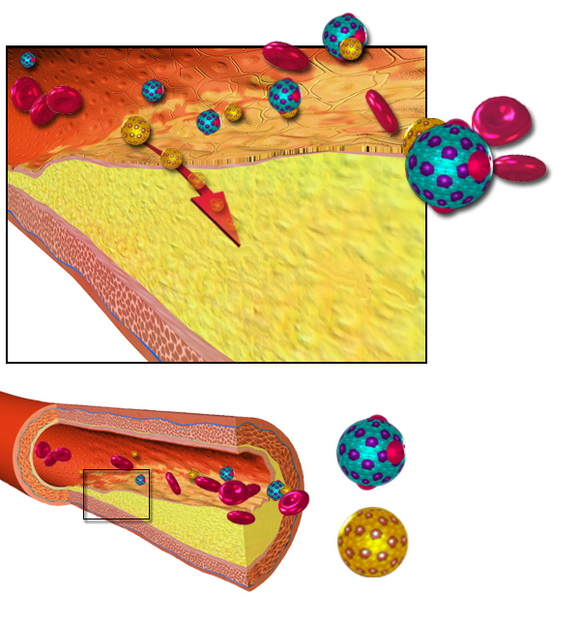 It's simplistic to say that LDL-c is "bad cholesterol". Let's dig into the research here because the truth isn't always as black and white as health websites claim.
A 2010 meta-analysis of twenty-six large clinical trials using statins to reduce cholesterol found the following.[ref]
For every 39 mg/dL reduction in LDL cholesterol level:
all-cause mortality is 10% lower
mainly due to reduced heart attack deaths
no effect on strokes or cancer
Studies using genetic risk scores (looking at multiple genetic variants related to cholesterol) find that a lifetime of lower cholesterol levels is associated with lower overall mortality risk.[ref]
"Results of the current study indicate that a genetic predisposition to high LDL-C levels contributes to mortality throughout life, including in the oldest old, and a beneficial LDL genetic risk profile is associated with familial longevity."
On the other hand, some researchers argue that there is no causality between high cholesterol and heart disease.[ref] Naturally, many of the research studies on statins, cholesterol levels, and heart disease are funded by pharmaceutical companies. And the endpoints and definitions of 'high' cholesterol make it hard to compare between studies. It makes it easy to create doubt about the link.
My Opinion: I think that the genetic studies on really high cholesterol (and low lifetime cholesterol) make it clear that there is a deleterious connection between life-long high cholesterol and heart disease. What isn't clear is where the line is drawn – at what level of LDL cholesterol should action be taken. Additionally, it isn't clear whether just measuring LDL-C (as is done in the majority of studies) is giving us the most accurate information.
Familial Hypercholesterolemia (FH)
A genetic mutation known as 'familial hypercholesterolemia' or FH causes really high cholesterol. Estimates show that 1 in 200 people have FH mutations, which increases the risk of heart disease by 20-fold. In adults, LDL-C levels are often over 190 mg/dL in people with FH mutations.[ref][ref]
While this is still an area of active research, so far, mutations have been identified in the PCSK9, APOB, LDLR, and LDLRAP1 genes.
Statins and Cholesterol-Lowering Medications
Statins, one type of cholesterol-lowering medicine, are among the most prescribed medications in the US and UK. In 2014 about 28% of Americans over age 40 were taking a statin. With prices for the prescription drugs ranging from $10 (generic) to over $700 for a month's supply, the economic impact of taking statins can be extensive, especially when calculated over many years of use.[goodRx]
A Cochrane study on atorvastatin (Lipitor) found that LDL cholesterol decreased by 37 – 51%.[ref] The question, though, of how much this reduces heart attack deaths is harder to answer.
The Number Needed to Treat website has an extensive review of studies on statins, including the increased risk of diabetes and muscle pain. It is an interesting, well-crafted assessment of the risks and benefits that concludes that statins' risks outweigh the benefits for most people.  Everyone is unique. Talk with your doctor about your specific risks and benefits.
Related article: Statins, genetics, and muscle pain
Recent Studies on Cholesterol
Studies on both high and low LDL cholesterol show a variety of different effects.
Low cholesterol links:
A March 2018 study found that lung cancer patients with low cholesterol were at a 61% higher risk of death.[ref]
Low LDL-C is associated with greater rates of sepsis in the elderly.[ref]
A study of over 100,000 people in Denmark found that having a lifeline lower LDL cholesterol level (1 mmol/L lower) reduced the risk of Alzheimer's and dementia.[ref

]
High cholesterol links:
A review in the Journal of the American Medical Association in 2019 found that each "additional 300 mg of dietary 

cholesterol

consumed per day was significantly associated with a higher risk of incident" of cardiovascular disease.[ref]
A large review in Lancet recently found that reducing LDL cholesterol reduces the risk of 'major vascular events'.[ref]
A picture emerges that LDL levels that are neither lower than normal nor higher than normal are best for overall mortality rates.
---
Cholesterol Genotype Report
PCSK9 Gene:
The PCSK9 gene codes for an enzyme involved in cholesterol transport, interacting with the LDL receptors. (Learn more here).
Genetic variants that decrease PCSK9 cause lower LDL-C and lower risk of heart disease.
Genetic variants that increase PCSK9 have links to higher LDL-c and a higher risk for heart disease.

APOB – Apolipoprotein B gene:
Apolipoprotein B is one of the main carriers of LDL cholesterol throughout the body and into the cells. Genetic variants in the APOB gene can lead to high LDL levels and an increased risk of heart disease.
Several fairly rare APOB mutations are pathogenic for familial hypercholesterolemia, a genetic form of very high cholesterol. Familial hypercholesterolemia can significantly raise the risk of heart disease.
LDLR Gene: LDL Cholesterol Receptor
Some relatively rare LDLR mutations also cause familial hypercholesterolemia. 23andMe data only covers a few of the over 400 mutations known, so you cannot use this data to rule out familial hypercholesterolemia.
LDLRAP1 gene: LDL-R adaptor protein 1 gene
ABCA1 gene:
The ABCA1 gene encodes a transporter for moving cholesterol back out of cells to be eliminated.
GPER1 gene:
G-protein estrogen receptor, which interacts with PCSK9 and the LDL receptor, can be an important player in women's cholesterol levels.
HMGCR gene:
A genetic variant in the HMGCR gene affects how well people respond to statins.
---
Lifehacks:
If you have high cholesterol and are trying to avoid going on a statin, here are some diet and supplement ideas to try:
Diet:
The old advice to give up eggs to lower your cholesterol is inaccurate[ref]. Similarly, choline from eggs or supplements does not raise cholesterol levels.[ref]
So what works to lower cholesterol?  A whole foods diet and moderate exercise are usually beneficial for keeping cholesterol levels in check. Yep – standard advice to cut out fast food and hit the gym a few times per week. Cutting out processed food should decrease inflammation and lower cholesterol levels. Cleaning up the diet does work for most people and is an obvious route to try.[ref][ref]
A meta-analysis that combined the data from a bunch of studies found that fruit and vegetable intake of 3+ servings per day decreases triglyceride levels and improves total cholesterol. (Interestingly, the study found no extra benefit from consuming five or more servings of fruits and vegetables per day.)[ref]
How much does diet matter? Type 2 diabetics on a low-fat vegan diet (lots of fruits and vegetables) had a decrease in cholesterol levels of 13.5 mg/dL.[ref]
Ketogenic Diet and LDL:
A recent study of healthy, normal-weight women found that a low-carb, high-fat ketogenic diet for a month increases LDL cholesterol significantly (~70 mg/dL). The diet was high in saturated fats and low in fiber.[ref] Keep in mind that individual results will likely vary – the range of increase was between 40 and 90 mg/dL for these study participants.
The rest of this article is for Genetic Lifehacks members only.  Consider joining today to see the rest of this article.  
Natural supplements for lowering cholesterol
Member Content:
An active subscription is required to access this content.

Join Here for full access to this article, genotype reports, and much more!
---
Already a member? Log in below.