Thiamine (vitamin B1) is a water-soluble vitamin that serves as a cofactor in the metabolism of carbohydrates, branch chain amino acids, and fatty acids. It is essential, meaning you have to get it from food. Why is it essential? ATP production, used in every cell for energy, requires thiamine. An insufficient amount of thiamine can cause problems with cellular energy.
This article explains how your body uses thiamine, genetic variants that may impact your need for thiamine, and ways to increase your thiamine intake. Additionally, I'll explain how thiamine is used in the mitochondria for energy production and why it could be important for long Covid.
Why is thiamine important?
Thiamine, in various forms, is an essential cofactor in mitochondrial energy production. Thus, a deficiency in this vitamin can cause a variety of different symptoms. Also, a link between having a low thiamine intake and an increased risk of cataracts exists. New research also points to a role for thiamine in neurodegenerative diseases.
Severe deficiency of thiamine leads to a disease called beriberi. Symptoms of beriberi include:[ref]
emotional problems
weakness
muscle pain
irregular heartbeat
edema
peripheral neuropathy
cardiomyopathy
lactic acidosis
Thiamine insufficiency can cause:[ref]
fatigue
gut issues
headaches
brain fog
irritability
Thiamine deficiency is fairly common in the elderly and can lead to misdiagnoses for dementia-related illnesses and increase the risk of these diseases.[ref][ref]
In animal studies, supplementing with thiamine "rescued cognitive deficits and 

reduced

Aβ burden in amyloid precursor protein".[ref]
Getting enough thiamine:
Food sources of thiamine include pork, enriched rice, and wheat products, wheat germ, legumes, and sunflower seeds. The daily recommended intake for thiamine is around 1.2 – 2 mg per day.
Food processing often depletes nutrients, including thiamine. Some foods, especially rice and wheat products, have thiamine added back to them (check the labels). One study in obese people who were obviously getting enough calories found that 29% were thiamine deficient. People who eat a lot of carbohydrates tend to need more thiamine to metabolize glucose. Similarly, people who exercise a lot also need more thiamine.[ref]
How do you know if you are getting enough thiamine in your diet?
Most people eating a varied diet are likely to reach the RDA. For someone on a  grain-free diet who doesn't eat a lot of pork, it may be worth tracking your intake for a week or so to ensure that you are getting enough thiamine. Cronometer.com is a free online app to keep track of your nutrient intake.
Thiamine insufficiency symptoms supported by research:
While full-blown beriberi is rare in the modern world due to thiamine-fortified foods, symptoms from thiamine insufficiency are possible due to restrictive diets, impaired absorption, anorexia, or bariatric surgery.
People who drink a lot of alcohol can develop a form of thiamine deficiency, known as Wernicke's encephalopathy, due to liver problems and reduced uptake of thiamine in the intestines. Thiamine supplementation is often recommended for anyone with alcohol dependency issues.[ref]
What does research show on thiamine insufficiency?
Role of thiamine in cellular energy:
Cellular uptake: Thiamine is absorbed in the region of the small intestines called the jejunum. The food you eat breaks down throughout the digestive tract, and then thiamine absorption occurs in the intestinal wall. At higher levels, thiamine passes into the intestinal wall via passive diffusion; at lower levels, thiamine uses a transporter (encoded by the SLC19A2 gene) to enter cells.[ref]
Within the cells lining the intestines, thiamine is transformed by an enzyme encoded by the TPK1 gene. Then it is moved into the bloodstream to be transported through the body.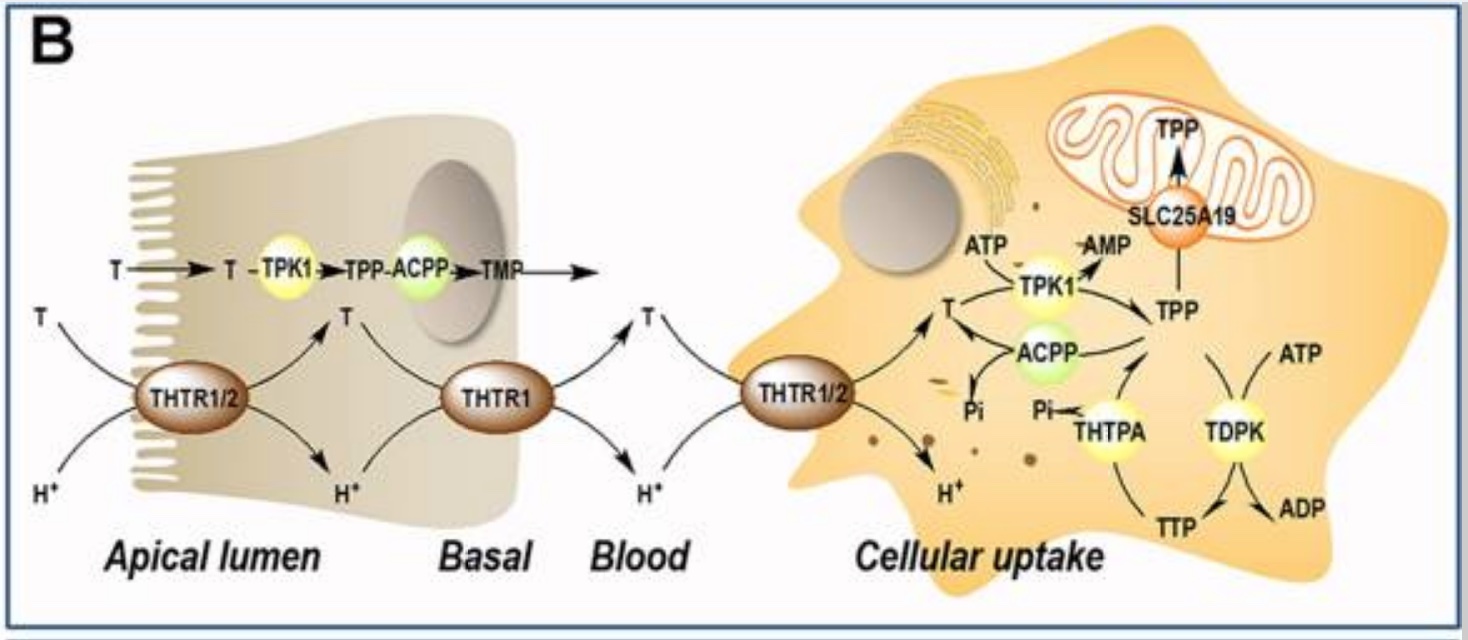 Thiamine in the liver: OCT1 (organic cation transporter 1) is important in how drugs, including metformin, work in the body. Genetic variants in the gene that encodes OCT1 (SLC22A1 gene) are linked to increased or decreased function and also impact metformin efficacy. Recent research shows that OCT1 is also a major thiamine transporter in the liver.[ref]
Energy production: Thiamine is a cofactor needed in mitochondrial energy production. Thiamine is a cofactor within the Kreb cycle for pyruvate dehydrogenase, α-ketoglutarate dehydrogenase, and branched-chain α-ketoacid dehydrogenase complexes.[ref]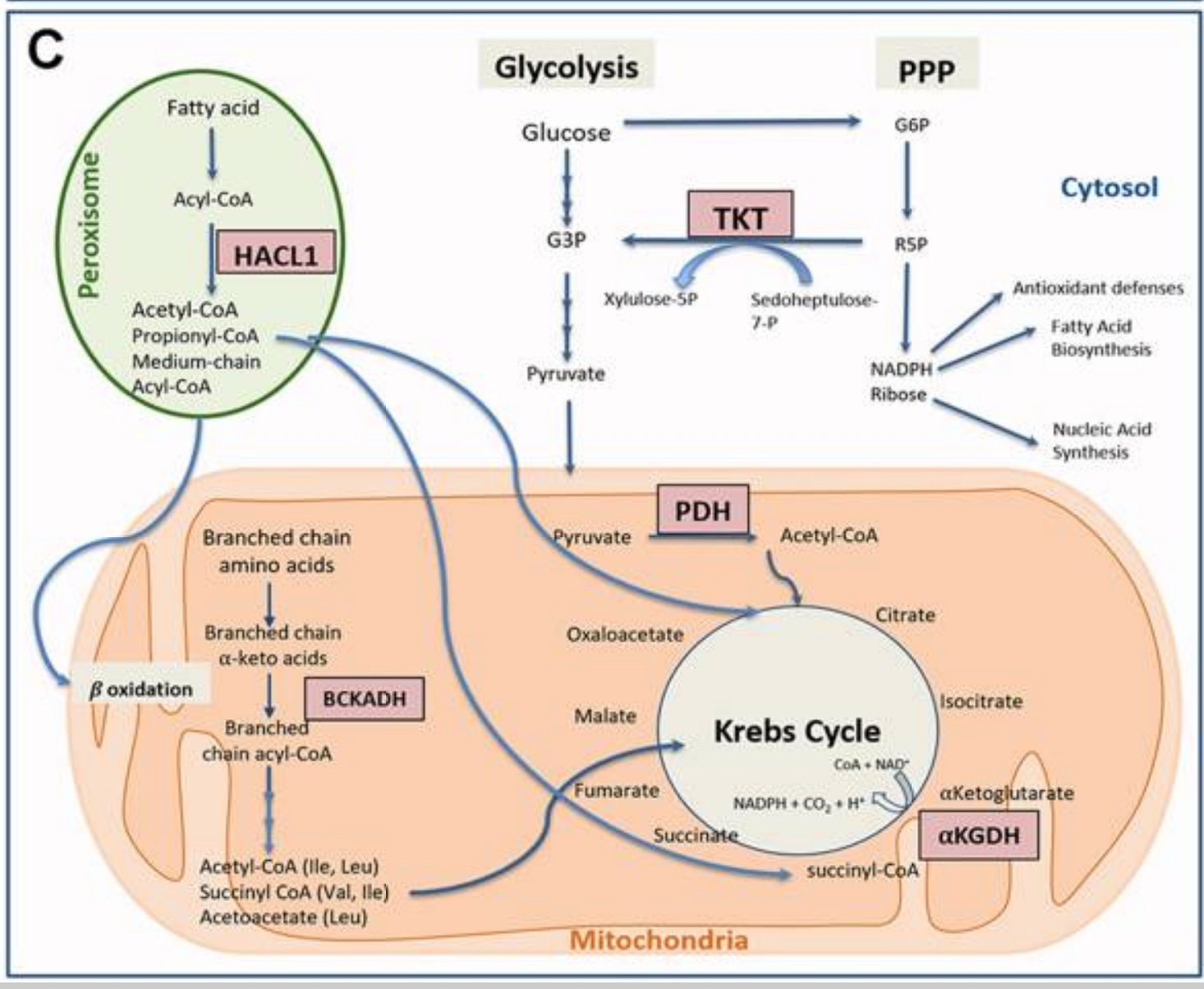 Researchers believe that thiamine deficiency decreases the cell's ability to switch easily between burning fat for fuel vs. using glucose.[ref] This is important for people doing intermittent fasting or a ketogenic diet.
For thiamine to enter the mitochondria, a transporter is needed. Thiamine gets into the mitochondria via a mitochondrial transporter encoded by the SLC25A19 gene.
In addition to its role as a cofactor for Krebs cycle enzymes, thiamine also is a cofactor for a key enzyme in the pentose phosphate pathway. It is important in generating NADPH and ribose 5-phosphate and inhibiting NADPH oxidase.[ref]
Related article: Fatigue: Genetics and Causes
Long covid and thiamine:
Anecdotally, thiamine supplementation in the form of benfotiamine is thought by some to help with long covid symptoms.
Let's take a look at the research on this topic:
A case report shows that a 15-year-old developed Wernicke encephalopathy due to a lack of thiamine a few months after covid. She had stopped eating much due to 'an overwhelming noxious metallic taste' after COVID-19.
In patients with severe COVID-19, Wernicke encephalopathy (due to lack of thiamine) is frequent.[ref] Thiamine supplementation in the hospital significantly decreases mortality in severe COVID-19 patients.[ref]
Several publications lay out the rationale for why thiamine supplementation may help patients suffering from long-covid.[ref]
Ok, that isn't much. But, in addition to thiamine's role in mitochondrial energy production, it also modulates the immune response:
Benfotiamine has been shown to reduce endotoxin-induced cytokine release. It shows that it has a modulating effect on the immune response. While we want a robust immune response against a pathogen, an overactive immune response causes damage.[ref]
---
Thiamine Genotype Report:
Members: Log in to see your data below
Not a member? Join now.
Thiamine transporters:
The SLC19A2 gene codes for the thiamine transporter 1, a protein that is needed for thiamine uptake in the intestines. Mutations in this gene have been shown to cause thiamine-responsive megaloblastic anemia. Without this thiamine transporter, the absorption of thiamine is severely limited in the intestines.
SLC19A2 genetic variant:
Rare mutations in SLC19A2:
Please note that AncestryDNA and 23andMe data are not considered clinical tests. Errors are possible in your data, and you should always talk with a doctor before taking medical action based on the test.
SLC19A3 gene: thiamine transporter 2
OCT1 (SLC22A1 gene): encodes the
TPK1 gene: thiamine pyrophosphokinase 1, a key regulator in the thiamine pathway
SLC25A19 gene: encodes the transporter for moving thiamine into the mitochondria
Other Rare Genetic Disorders that increase the need for thiamine:
Thiamine is also involved in the treatment of several rare genetic disorders. The disorders are usually diagnosed in infants, although those who are heterozygous for the mutations listed below may wish to investigate the link to thiamine.
Members: your genotype is below in the Member's Blueprint
Pyruvate dehydrogenase complex deficiency (PHDC) is sometimes responsive to thiamine.
rs28933391 – A/A is pathogenic for Pyruvate dehydrogenase deficiency.
rs28935769 – C/C is pathogenic for pyruvate dehydrogenase deficiency.
An inborn error of branch chain amino acid metabolism called Maple Syrup Urine Disease can be responsive to thiamine. Mutations in the BCKDHB gene cause this error in BCAA metabolism.
---
Lifehacks:
Thiamine insufficiency is easy to overlook as a cause of a lot of symptoms that mimic other conditions. Supplements are readily available if you suspect that you aren't getting enough thiamine in your diet.
Diet: Foods that are high in thiamine include:
liver
black beans, legumes
macadamia nuts
pork
The recommended daily thiamine intake is 1.2 mg/day of thiamin for men and 1.1 mg/day for women.
Increasing thiamine absorption:
Some foods contain anti-thiamine factors. For example, tea and coffee decrease thiamin absorption, and certain mycotoxins (mold toxins) can act as anti-thiamine factors.
Testing: Blood tests for thiamine levels are readily available. Talk with your doctor about testing, or order it on your own through a place like Ulta Lab Tests. Shop around if you're ordering lab tests on your own – prices vary quite a bit on online lab test websites.
Caution: If you have a rapidly growing tumor, talk with your doctor before supplementing with thiamine. Rapidly dividing cells need a lot of thiamine, and it may be contraindicated with your treatment.
---
Blueprint for Members:
This members-only section includes additional lifehacks, including supplement research, when to try thiamine, and a member's overview of genes.  Consider joining today to see the rest of this article.
Thiamine supplement types:
Member Content:
An active subscription is required to access this content.
Join Here for full access to this article, genotype reports, and much more!
---
Already a member? Log in below.